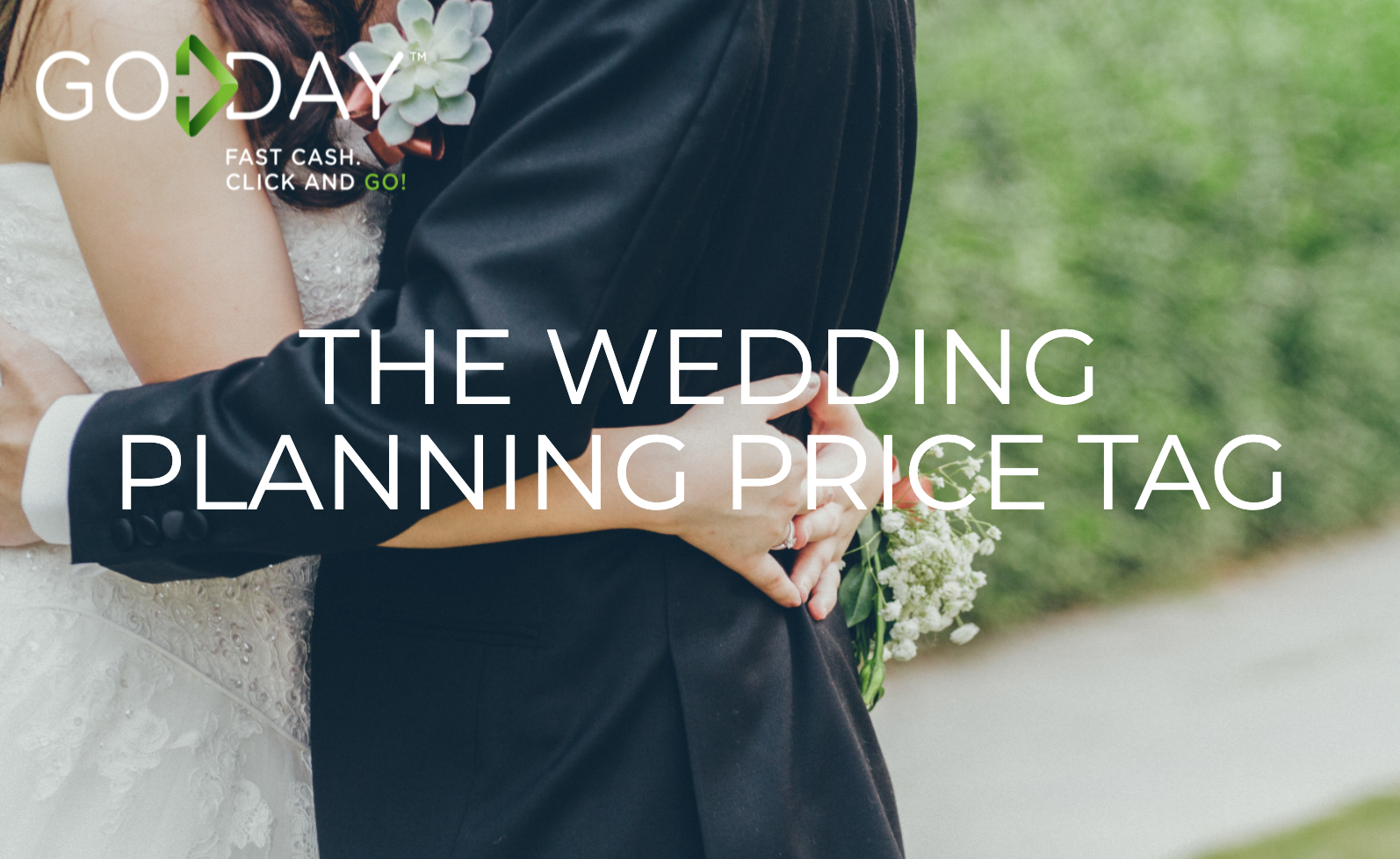 The dress, the flowers, the venue, the food and drinks. The list for everything that goes into a wedding goes on and on – and so does the price tag. Planning a wedding can be stressful enough but adding in the costs that come with it can be overwhelming. One of GoDay's favourite tips when it comes to managing your finances is budgeting – and creating a budget for your wedding can help with all your wedding planning costs. Don't let money worries get in the way of your wedding day. See how GoDay can help take one thing off your wedding to-do list.
So how much does the average wedding cost? The average cost of a wedding in Canada is approximately $42,400 according to Statistics Canada 2017 survey. Based on the survey, the wedding cost breakdown is divided into categories. These include bride and groom attire, ceremony and reception, honeymoon, and other expenses. The ceremony and reception are the most expensive subcategory, costing $19,925 on average. This total doesn't include the expense of a one-year engagement period. According to Statistics Canada, the average one-year engagement costs reach on average 12,505 Canadian dollars. This includes the engagement ring, an engagement party, and other expenses such as flowers and wardrobe updates.
Weddings can also be costly for guests. Whether they attend the ceremony or are part of a couple's special day, it can cost them a lot. This is especially true when you have multiple weddings and celebrations. Survive wedding season on a budget with our tips including and tips on wedding guest etiquette you should follow.
Wedding Planning Costs
Your vision for your special day will help determine your wedding planning costs. Are you looking to have a full sit-down three-course meal at a hotel or resort? Or are you looking to host afternoon cocktails in your backyard? Depending on the day you envision, several major factors will affect your budget and what you need to set aside.
The cost per head for food and drinks is one of your biggest expenses. Consequently, changing the guest list size can increase or decrease your costs. A smaller guest list means fewer decorations, less stationery, invitations, and favors, and fewer rentals.
Venue
As mentioned, the kind of wedding you are looking to have can determine the cost of your wedding. And one of the highest costs can be where you decide to tie the knot.
Let's face it – some cities and towns are just more expensive than others. We know that Toronto and Vancouver are two of the most expensive cities in Canada to live in. Finding venues in these big cities can also mean a bigger cost.
Depending on the venue, they may also have headcount minimums. This means they won't host your wedding without a minimum number of guests. Other locations may have a per-person minimum which also demands your event be a certain size. Alternatively a park, backyard, or a family or friends' home can come at no or low cost.
Date and Time
They call it wedding season for a reason. It's prime time and it comes at a higher cost. Some days and seasons are more sought after than others. For instance, a spring Saturday with an evening reception often comes with a steep price tag.
An evening reception is usually more expensive than a brunch or afternoon reception. Evening menus are usually more elaborate and the reception includes more expenses like lighting, music, and more decorations.
The Wedding Theme
It is your special day! So, choose how you want to celebrate and choose the costs that come with it. Are you wanting a black-tie event? The more formal the celebration is, the more expensive it will be. You'll pay for the venue, food, cocktails, and decorations to match your theme. A live band will cost more than a DJ. A sit-down three-course meal will cost more than a buffet-style. These are all choices you need to make.
Wedding Budget 101
You budget for a wedding like anything else. Set aside a certain amount of your pay cheque. Reserve certain funds in case you encounter unexpected expenses. The longer your engagement, the longer you will be able to save for your special day. You can also find everyday savings such as making coffee at home, rather than grabbing it to go. Being more mindful of your spending can also help you save.
It is important to break down wedding planning costs. Prioritize what you and your partner want for your special day. A good way to do this is by each of you picking three priorities. This could be the venue, the food, or the flowers. Then allocate the money within your budget accordingly.
From there, choose three things that are lowest on your priority list. Either find alternatives for these things or possibly not include them in your wedding at all. You need to have realistic expectations when it comes to your wedding budget.
You also need to keep track of your spending. Keep things simple and skip the special effects and fancy details. These are the little things that tend to add up quickly. Plus, you probably didn't include them in your budget.
Look Out for Hidden Costs
No one likes surprise costs or hidden fees – especially us here at GoDay. That is why GoDay discloses all fees upfront. That means you won't find any additional charges on any of our GoDay loans hidden in the fine print. That's the last thing you need when you're already counting every dollar.
Little "extras" such as overtime for the DJ or venue and staff can strain your budget unless you plan ahead. Don't forget tips either. Depending on the services you hire, they may not be included in your initial contracts.
Luckily, you may receive "free trials" for things such as makeup and hair. However, watch out for additional charges if you make changes. All these potential extras can up. The best budget is a thorough one which minimizes unwelcome surprises.
Money and Relationships
It's no secret money is one of the top things that can cause issues in a relationship. As a result, navigating money and relationships is extremely important, especially when planning big moments like wedding costs. Before you go down the aisle, know how your partner manages their finances.
Couples don't just fight about spending habits, but also tend to disagree when it comes to saving. For example, savers may pass on traveling, eating out, celebrating milestones, etc. Others may be okay with splurging. It's important to create common financial goals and understand each other's spending habits.
It is also recommended you have between three and six months' worth of expenses tucked away as an emergency fund. These things are important to discuss with your partner, because you want to be as prepared. Everyone's goals and priorities differ. Having those important conversations will help determine what money tips work best for you and your partner.
Debt and Relationships
Another important money discussion is debt. How much debt are each of you bringing into your relationship? Do you have a plan to tackle it? It's important to lay this on the table. Work together to determine a payment plan that works for both of you.
As a couple, no one should assume the other person will gladly assume responsibility their debt. At the end of the day, your debt is your responsibility. However, that doesn't mean you two can't work together to figure out a plan. Come up with a strategy together. Most importantly, don't resent the other person if they bring more debt into the relationship than you. You're a team now!
The thought of talking about money and finances with someone you love can seem incredibly uncomfortable. In fact, according to Wells Fargo, 44% of people ranker personal finances as the most difficult topic to talk about. Being successful with managing your money as partners will set you up for a successful financial future.

How Can GoDay Help
GoDay can help relieve some of your stress so you can focus on your wedding day. In a recent report by the Financial Consumer Agency, nearly two million Canadians use payday loans each year.
You have your own reasons for borrowing money. The unexpected and large costs that come with planning a wedding could be one of them. Fortunately, GoDay's online loans offer a flexible borrowing solution that you can use to help with immediate expenses.
GoDay has an easy-to-use application process and a step-by-step guide to help you along the way. We also have an education section on our website, to support – not replace – the advice of a financial professional.
Planning a wedding can be stressful enough. Let GoDay help you take things off your to-do list. Canadians rely on GoDay for fast and easy online loans. Receive your funds quickly and get back to what is important – planning your wedding!