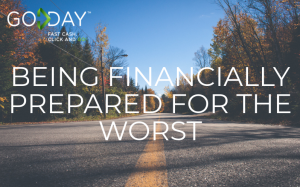 Have you ever been in a situation that set you back financially? One of those instances you didn't see coming and you're not financially prepared? If you have, then you know the financial stress that can come with it. And one of the biggest challenges is being able to bounce back and get your finances back on track. That's why here at GoDay, one of our missions is to help relieve you of financial stress by getting you back on track with our payday loans online, not further behind. So how do you get that dark cloud of financial worry to stop following you around? No matter the situation, we discuss how you can be financially prepared for the worst and how to get back on your feet financially after a setback.
More Than Savings
A lot of people think that because they have savings, they will be financially okay in an emergency. But do you have a specific set of funds dedicated to an emergency fund for when the worst happens? Any form of savings are helpful, but in the case of a financial emergency, you should always be prepared. According to Investopedia, an emergency fund is an account used to set aside funds needed in the event of a personal financial dilemma, such as the loss of a job, a debilitating illness or a major expense. The purpose of the fund is to improve financial security by creating a safety net of funds that can be used to meet emergency expenses. The only time to use your emergency fund (which is why it should be different than a regular savings account) is when you need to prepare for the financially unexpected. Emergency funds are most commonly used in cases when you need a lot of extra cash on top of your current expenses causing them to double or more. When it comes to being prepared financially, having an emergency fund in place is your best bet in being prepared if something were to happen.
Starting An Emergency Fund
So how do you start to prepare an emergency fund? Why do you need an emergency fund? Do you already have one you're looking to grow or are you looking to start one? There are a lot of questions when it comes to having an emergency fund, that's why we want to make sure you are on track and know your options in case something ever happened. It is recommended that an emergency fund contains enough money to cover at least three months of living expenses. While the basic rule of thumb is to have enough money to cover at least three months of net income, even that may not be enough the Globe and Mail states. So where do you start saving this kind of money? It's recommended that a TFSA is the best account since funds are easily accessible and won't you don't have to pay the taxes when you withdraw the funds, but your money is still invested and making money.
Getting Over The Financial Hurdle
It is when financial strains happen that people turn to GoDay. So in the case of a financial emergency and people do not have the savings or emergency fund available, GoDay can get you the cash you need in 24 hours. Since we partner with the most reputable financial institutions and uses the fastest tools in the industry to make sure you get the speediest service possible, you can apply from your computer or mobile device and our highly automated system will do all it can to ensure you receive your funds as soon as possible. Nobody likes surprises when it comes to money that's why when you use GoDay, we know you're in a pinch and disclose all fees up-front, including those you'll be required to pay if you default on your loan. Not to mention we're online, so you can apply for the loan you need virtually anywhere. We also like to keep it simple; fast cash for you with the security and professionalism along with it.
Set Your Financial Goals
After any financial setback, the first step is to evaluate your current situation. And the same rules apply when it comes to your finances. By seeing what you have to work with you will then be able to set up a proper budget and figure out what your next steps are regarding all money matters. Once you have a good understanding of your finances, you can then start to set your financial goals. Whether that's saving more, spending less or just cutting expenses, you have to ask what do you want to financially achieve? Save for something specific, create an emergency fund or start to get savings in place for retirement? That's why putting money away regularly will help prepare you for any occasion and save whether it is planned or not.  It doesn't have to be a significant amount, but challenge yourself to put away a certain amount each month for a rainy day or for when a financial setback happens,  you will thank yourself in the future.
Whether you've lost your job, gotten injured or sick, or are looking for a new home, financial setbacks can be financially stressful for anyone. Your emergency fund and being prepared for the worst is more than just a savings account, it should be ready for whenever the unexpected happens. Of course, we hope that you would never have to use such funds, but it is always better to be safe than sorry, especially when it comes to your financials. It is when these financial strains happen that people turn to GoDay. So in the case of a financial emergency and people do not have the savings or emergency fund available, GoDay can get you the cash you need.
Looking to see how much you should be putting away in case of a financial emergency? RBC has a tool to help determine how much you should be putting away in case of an emergency based off of your current salary.