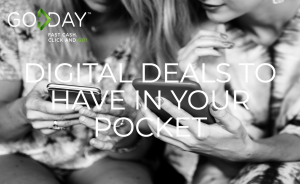 Can you go without an electronic device? Technology has taken over how we basically do everything and that includes us. Look at GoDay for example- we are an online payday loan/short-term lending company who does a majority of our business online. Not to mention you can apply from your computer, smartphone or tablet, and our highly automated system will do all it can to ensure you receive your funds as soon as possible. Thanks, technology. When it comes to shopping, banking and everything else to do with your money, you have more options than ever with the internet and being a few clicks away. And if you're a business that is not online, you are missing out on numerous opportunities. So because everything we do is now a part of the digital age, there are over 2,100,000 apps that you can have on your phone to make life easier. That's why we've rounded up a few of our favourite apps and digital tools that help keep our finances in order, help us save money because who doesn't' like a good deal? These are some of our favourite digital deals to have in your pocket.
For all the shoppers looking for the way to save money and make money for shopping (yes, you heard us correctly), Ebates is for you. So how does it work? You sign up for free and start shopping! That's right, it's that easy. To get cash back you have to make one stop by first visiting the Ebates site to browse all the stores and begin any online shopping you want to do. And you can do your shopping from everywhere, either the Ebates app on your phone or tablet or online shop from your computer. Each store has a percentage tied to it based on current promotion at the time and that is also the amount of cash you will get back. Once you choose the store you're looking to shop at, you are automatically directed to that store's website and can begin online shopping like normal. From there, Ebates does all the work! Ebates tracks your purchases and spending patterns so that it can let you know when your favourite stores have the best deals and deposit the cash back you've earned into your Ebates account within a few days. Offers rotate and there are new offers added to the site daily and you can search for coupons at specific stores or by store categories such as electronics, department stores, or travel. Who doesn't want cash back for shopping? Sign us up! Ebates is the ultimate way to shop smart online and keep your wallet happy.
We've mentioned it before, and we have to mention it again. Flipp is a retail technology company that is reinventing the way people shop. The Flipp app offers consumers digital shopping content to help plan out your shopping trips, clip coupons and find deals on the items and brands you're always shopping for. Flipp has taken over the digital flyer scene as it not only provides you with online flyers for the best deals, but it also compares all the prices of that item for you. Flipp has taken the physical flyers and brought them right to your device and even lets you customize what you want to see. Features, like creating your shopping list and making price matching easier, has become a handy tool that can help you save time and money all on your electronic device.
UGO Wallet is exactly as it sounds – a wallet for your phone. UGO Wallet is your mobile wallet where you can store your loyalty, membership, and gift cards on your device. You can even send money to friends and family through the app. It also has features such as being able to save and organize your receipts so you can access them whenever you need them, which means you don't have to worry about finding the paper copy at the bottom of a bag again. The best part about UGO Wallet is if when you add your accounts and cards or send money with the app, you are backed by bank-grade encryption so your money and personal information is safe and secure.
Amazon
 Who doesn't want to be able to shop millions of items anywhere you go? Not to mention if you're an Amazon Prime member you can have something shipped to you that day, all from your device. Amazon is the company it is for being a leader in the technology industry and their app is no different when it comes to consumers. Do you want notifications about when your favourite items are on special? What about being able to track your packages and get shipping notifications about where your order is? Read product reviews, use voice options and scanning items all within the app for the ultimate and very convenient shopping experience. Amazon has more than just their shopping app, but Amazon Video, Amazon Music, Amazon Drive, Amazon Photos are just a few of the other Amazon apps available.
When it comes to shopping, you have more options than ever with the internet and our mobile devices constantly connected means changes in the retail market have advanced and created new ways to shop and manage our money. And if a business isn't online, they're behind and missing out big time. It's one of the reasons why GoDay is an online company because in this market you need to be innovative and meet the needs of your customers. And as we mentioned, GoDay partners with the most reputable financial institutions and uses the fastest tools in the industry to ensure you get the speediest service possible. We accept and approve online payday loan applications 24/7  and when you apply from your device our automated system will do all it can to you get your money as soon as possible. As technology advances, so do our habits as a consumer. That's why we want to make sure that you are getting the best service and deals right from your pocket. For more statistics on the digital shopper, see the infographic Business Insider created.