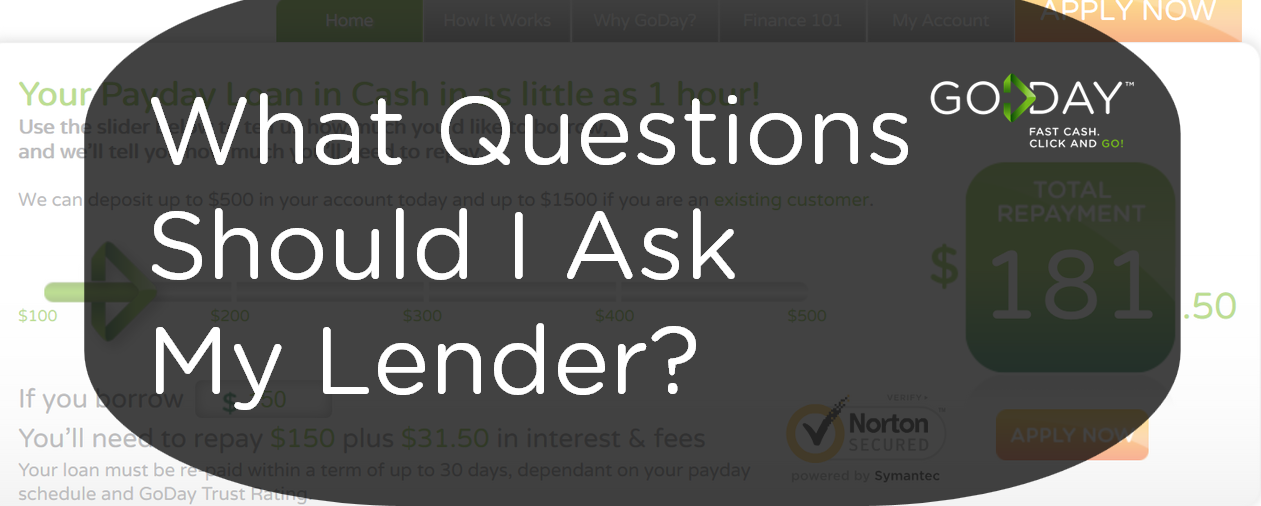 If you're finding yourself in a cash-flow jam, a payday loan might just be the answer for you. We've covered insider tips, determining whether or not an online lender is legitimate, or if they're direct or indirect, but we've yet to cover in detail what questions you should ask your lender when applying for a short term cash solution.
Before entering into a payday loan agreement, please consider your ability to repay on time. Payday loans are, by their name, loans between pay-dates, which means you'll have to pay back your loan on the exact date of your next payroll deposit. There's generally no exception to this.For some people, this is every two weeks. For others, it might be twice a month. And for very few, it might be monthly.
Some people enter into a payday loan agreement with the intention of not paying back on time, but we cannot stress enough how bad of an idea that is. You will not only incur interest charges, but most likely a large late fee. And, more often than not, it might hurt your "credibility" with your lender.
Sure, some lenders don't check your credit, but that's not the only credibility that matters in this kind of alternative lending situation. All payday loan companies have an internal scoring system to access the risk of lending to you. Save yourself the extra money and pay back on time.
If you genuinely don't think you can half way through your loan term, call your lender immediately and let them know. Have a payment plan in mind already. It will prove to your lender that you're willing to repay the  full amount.
If I change my mind about the loan, how long do I have?
In Ontario, you have two business days to inform your lender that you want to cancel your loan, penalty-free. If the lender says no to your right to cancellation, run (or close your browser window).
What are the terms of my loan?
Be clear about what you don't understand. Ask the exact date you'll be required to repay. Determine whether or not you have to go into a store yourself to repay, or if they will automatically remove it from your bank account (with your approval). And most important of all, ask what the fee per $100 borrowed is. If you're in Ontario, and they say anything more than $21 per $100, get out of there.
Will you give me another loan if I already have one out?
This is a policy question that you should ask to determine how compliant a lender might be. If they say yes, go somewhere else. Ontario payday loan law prohibits duplicate loans from the same lender. However, this does not apply to two simultaneous loans from different lenders.
How much will I be charged if I can't pay back on time?
Each lender is different and you should know how much more you'll owe if you don't repay on your due date. Remember that interest will accumulate every single day that your loan account goes unpaid.
This counts more for online lenders. If you're applying for a short term loan online in Ontario, a lender must make their up-to-date payday loan license visible before the application process begins. If you're already on page one of an application & you haven't seen it, close your browser window and never go back.
The license should be plain looking, with the Government of Ontario logo and all relevant business information, including the year the license is covering. Payday loan licenses must be renewed every year, so double check the date.
If you want to learn more about determining whether or not you need a payday loan, check out the Government of Canada's Consumer Services page on payday lending here.