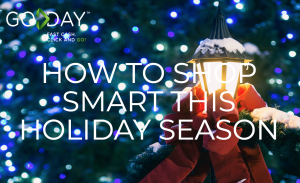 The holiday season is known to be one of the most expensive times of the year. Do you have your budget ready to know how much you're spending? The amount people are spending this holiday season is up again from last year, averaging about $643 on gifts just this season. That's why we give you the tips to help you budget so you can be financially stress-free this holiday season.
Like you do when it comes to spending and budgeting for anything else, the holidays should be no different in terms of setting your financial limits. Know how much you can afford to spend this holiday season by laying it all out there. Take a hard look at your budget, taking bills and your regular expenses into account, and lay out your gift ideas and other holiday items and the costs to see what they're going to add up to. This will also show you how much wiggle room you will need in both your regular and holiday budgets. From here you will be able to set spending limits and be financially prepared for the holidays.
The biggest spenders live in Eastern Canada, according to the Retail Council's survey of 2,504 respondents. Shoppers in Atlantic Canada budgeted the most this year, at $813, followed by Ontario ($805), British Columbia ($688), Alberta ($622) Saskatchewan and Manitoba ($611) and Quebec ($458). And that's just gifts! Remember all the decorations, food (and we cannot forget about all the wine that comes with these delicious meals), wrapping, and all the little add on's that we always forget to budget for, as much as we wish we could save more (instead of spending it) this time of year, be ready to budget approximately another $300 on decor and entertaining. That's almost a thousand dollars just for the holidays! And that doesn't include Boxing Day shopping, one of the biggest shopping days of the year. Are you spending more than you would like this holiday season? If so, you're not alone. But it's because spending continues to grow over the holidays, people are finding different ways to budget and be prepared for the busy holiday season.
But gift giving isn't the biggest expense of the holidays, according to the Retail Council of Canada. So what are we buying this holiday season? CTV helps break down where our money is going, as most Canadians anticipate spending one-fifth of their holiday budget on entertaining costs such as food and alcohol.
The next biggest anticipated costs include:
Clothing (17 per cent)
Toys (10 per cent)
Dining out (8 per cent)
Books and music (6 per cent)
Personal electronics (6 per cent)
Vacations (6 per cent)
Health and personal care (5 per cent)
Home electronics/appliances (5 per cent)
Home decorations (4 per cent)
So where can you save money this holiday season?
Budget based on YOU, not others
When it comes to budgeting for the holidays, you need to make sure you're only spending within your budget, not others. Everyone has different financial priorities and financial pressures often catch up with us around the holiday season, especially when it comes to gifts. Creating debt and putting you back financially over the holiday season will only catch up with you in the New Year and may affect future financial plans. But if you do find yourself in a financial bind over the holidays, we're here for you to help get you through the financial crunch that comes with the holidays.
Don't Pay Regular Price:
Tis the seasons for sales and specials. The sales start at Black Friday and really don't stop all the way until Boxing Day it feels like this time of year. Which means paying regular price for items means you are shopping in the wrong stores and not doing your research. When it comes to the items you're after, find out where they are available and make sure to do a price comparison. By searching online, you may find online exclusive discount codes or sales that are not available in store because prices online can be different than in store. Online will also show you where your item is available, and depending on the store, they may price match that item which will also help you save. Hang on to receipts as stores also have surprise sales during the holiday season, so even if you did pay regular price for that item, stores will honour the sale price if you bring it in.
Homemade gifts go a long way
It's not about the price tag this time of year. That's why Country Living gives you 75 DIY Christmas gifts your friends and family will actually love and a lesson on how simple it can be to make great gifts without breaking the bank. This list is great because it shows you how easy it can be to use materials you may already have at home. And they're perfect for everyone on your list. Whether you're looking for fun stocking stuffers or easy-to-make hostess gifts, there is a gift idea for everyone on your list. These are just a few examples of the many gifts you can make all while saving money. By being creative, you're adding a signature personal touch to giving this holiday season.
Go online
Online shopping is a huge industry and has completely changed the way consumers shop. When it comes to shopping, you have more options than ever with the internet and our mobile devices constantly connected means changes in the retail market have advanced and created new ways to shop and manage our money. With online shopping making such an impact on the way people shop, there's no question that, like always, people are searching for ways to save money. One of the best parts about online shopping is the ability to shop around, all by the click of your mouse, on the comfort of your couch. According to the Globe and Mail, last year, mobile shopping accounted for 34 per cent of holiday sales in Canada; eMarketer's 2018 forecast expects mobile to account for 30 per cent of Canadian retail e-commerce. Online isn't just for the digital millennial demographic either the Globe and Mail reports as according to PwC Canada's research in their 2018 holiday outlook report, it suggested that most Canadian consumers go online for inspiration and to do their research for gifts this time of year, even if you end up purchasing those gifts in-store. As technology advances, so do our habits as a consumer. That's why we want to make sure that you are getting the best service and deals right from your pocket.
Make a list and check it twice
We often make a holiday shopping list of the people we have to buy for, but there are always items that we forget to add to that list. On top of that, what about traveling expenses to visit family, gift exchanges at work, donations to charity, decorations, wrapping paper, the holiday dinner menu, and the list goes on. That's why creating it's best for you to create a list for your holiday shopping and stick to it. It's easy as you browse through stores during the holiday season to start picking up things you don't need for people, or even yourself. So make sure to lay out every single expense you will likely encounter this holiday season.
Don't let your wallet suffer in the New Year
2019 is well on its way and it's the time of year for reflecting on the year that has just passed and setting new intentions and goals for the year ahead. New years goals and resolutions can often take on the "set it, and forget it mentality". A study done by Statista showed that 58% of Americans had a New Year's resolution to save more money, but another study showed only 8% of people actually keep those New Year's resolutions they set out for themselves. Are you feeling the financial stressors of the holidays? Are you going to be able to cover your costs come January? Because that's when the real financial hangover kicks in, once the credit card bills plus the other normal expenses start to add up. That's why January is a perfect time to reevaluate your finances and set out new financial goals. Keep your financial cool this holiday season and be worry free this January. And if you need help along the way you know where to find us!
Don't be a holiday hero
"Put it on my tab!" Those are the things you shouldn't be saying if you're financially stressed this holiday season. The holidays are about spending quality time with loved ones, not spending money. It's not about the best gift or most expensive bottle of wine sentimental value goes much further. Retail stores do a great job at making you feel like you need all of these popular items this holiday season. Go with your gut and not your credit card when it comes to your purchases this year.
Shipping & handling fees
Online shopping has made shopping this holiday season incredibly easier and can help with avoiding the crowds at the mall as we mentioned above. But make sure that when you're ordering online that you are taking into consideration shipping and handling fees because shipping and handling costs definitely aren't cheap. Depending on where the products are coming from is what will make the shipping costs so high. Most online retailers offer free shipping when you spend a certain amount, but this is also a retailer's tactic to make you spend more money. You should also keep checking for free shipping with any purchase, as it is very common to see free shipping specials around this time of year. You shouldn't be spending more than necessary just for free shipping.
Credit card use
Overspending during the holidays is very common with the number of gifts, meals, guests and holiday joy there are. And what are the most common way people pay for all their holiday expenses? You guessed it. With your credit card. But make sure those charges to your credit card don't send you over budget. Credit cards can also have it's advantages this time of year including payback with points options, valet parking at certain malls, travel rewards, and more all based on what credit card you may have. It's great to take advantage of these things if needed, but don't let them be the reason you spend. You may think your saving big by purchasing all of your gifts on sale, but if you aren't paying it off you're not saving any money when you're paying the interest.
Tis the season for payday loans
At GoDay, this time of year is one of the busiest for us and we're working hard for you. We've talked before about how the holiday season adds up quickly, that's why we want to make sure you're financially prepared and to let you know how we can help along the way. We're here to help make sure you can cross everything off your list with no financial stress needed, so you can enjoy the holidays. How? We're working hard for you this holiday season. Our online loan application is available 24 hours a day, seven days a week. And with that application, you will instantly know what kind of loan you've been approved for. It only takes a matter of minutes. Not to mention, our customer service representatives are available online or by phone if you need help or have any questions along the way. We're dedicated to making your loan work for you this holiday season.
Remember that GoDay is here to help bridge the gap at this time of year, as it can be a financial squeeze. So don't let this holiday season be a financially stressed one and let us help you this shopping season.